Discussion Starter
•
#1
•
For the diesel fans.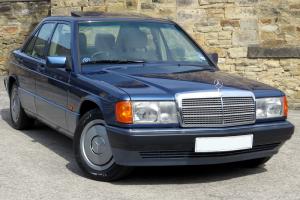 1992 Mercedes-Benz W201 190D 2. 5 Diesel Auto Just 66. 00 Miles with Full & Highly Detailed Service History Now Very Rare & Very Highly Sought After 5 Cylinder Diesel Stunning Nautic Blue with Mushroom Cloth Interior Quite Possibly The Best Available Legendary Reliability & Durability...

car-from-uk.com
Of a reliable bunch, these are meant to be the most reliable of all. It's a 2.5 and comes with a giddy 90 bhp. If that power makes you want to pass out, you can hunt down the 2.0 diesel with a much more manageable 75bhp.
Don't think we ever got the 2.5 Turbo D in the U.K., the one with the natty slats in the front wing. Not sure. But in the event of a nuclear war, when '...the only thing left will be cockroaches and 190s...', that's a nice chill pill car for not much money that will last forever.