Discussion Starter
•
#1
•
Evening all.
I tried to post this thread yesterday but after spending literally 5 hours putting all words and pictures together, the web page froze and I lost it all.
I got back yesterday from a 12 day tour of Europe in me car with me missus.
We didnt really have a plan, all i knew is that i definately wanted to go to the Nurburgring and possibly the Swiss Alps.
I wanted to put my 17'' GTA teledials back on for the journey due to them having far better tread than my not ideal 19'' tyres but unfortunately I didnt have time to do this due to not finishing work until 2 hours before departure (and working the previous 18 consecutive days).
Off we go. We headed north through the tyne tunnel and to the Port of Tyne
V V It started off well when a nice red Integrale pulls up behind me in the queue for the ferry.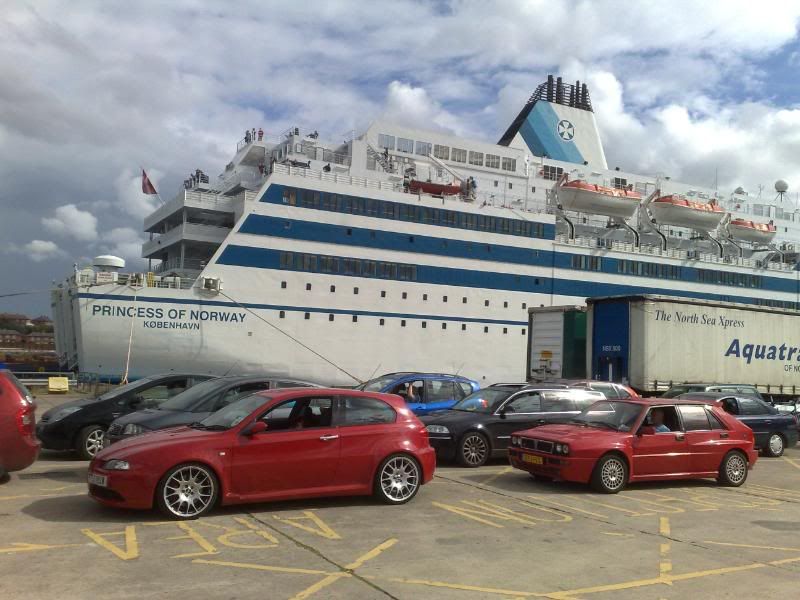 V V I nattered to him (dutch fella, been to edinburgh for the weekend) for a while and we boarded ship.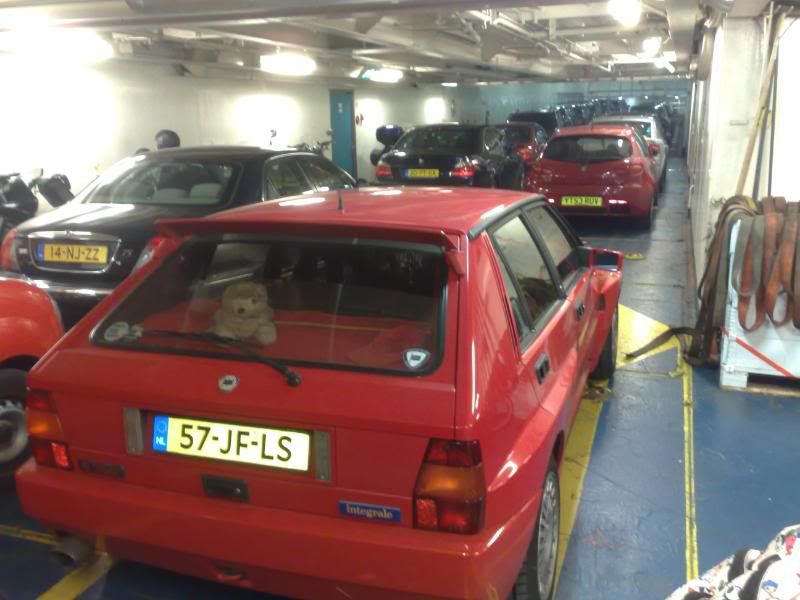 V V Leaving Newcastle behind
V V Arrived Ijmuiden, Holland the next morning and made our way to Amsterdam. V V
Sampled the delights of the 'Dam, got a hotel and headed onwards the next day.
V V Headed into Germany, destination the Harts mountains. We found a nice campsite along the way though. V V
The next day we carried on towards the harts mountains in the scorching heat (35 degrees) and unfortunately we got a puncture in the front N/S (or O/S in germany). No problem i thought, we have got a tin of that stuff that alfa give you rather than a spare wheel (i think this is only when your car has the 330mm brakes ??), i followed the instructions and put it in.
It didnt make a blind bit of difference and air continued to pizz out.
Oh well, good job i sorted out european breakdown recovery (for £69) before we set off. I rang them and they sent us a low loader out in about an hour.
what a bloody nightmare it was though trying to get me lowered, big wheeled poncey motor onto the truck tho, i'm not kidding you it took at least an hour to do this, not helped by the fact that I had forgotten me towing eye (dime bar anyone). Tried all which ways and then i resorted to jacking me car up at the front and getting me coilocer spanner and adjusting them at both sides at the front to raise the car a little. What a fecking rigmorole. Done this and ended up reversing it on.
Got some pics of it on the recovery truck on me missus' phone but it got nicked later.
The recovery man took us to the nearest big-ish town (we were in the middle of nowhere) and dropped us off at a tyre/exhaust place.
We were then told that we would have to wait till friday (2 days) for tyres to arrive in my size. As this was the only option, we had to take it so we left the car at the tyre place and went to find a nearby campingplatz.
In the meantime I sorted out a hire car because I knew I was entitled to one as part of my 'gold' recovery package. They were not going to offer me this, i had to ask, but glad I did as when we got to hertz, they had a Focus CoupeCabriolet waiting. Obviously not my fav car but in the heat of the day it was quite nice to ponce about in a cabriolet. which was soooooooooo slow. Even slower than that 1.2 punto loan car i had a few weeks ago, there was just nothing there, even first gear seemed slow, it was ridiculous. Despite this though, i managed to get flashed off a speed camera doing 100kph in an 80 zone. This is the first time I have EVER been caught for speeding. Gutted.
I didnt tell hertz when i gave the car back though so we'll see if owt comes of it. I cant imagine recieving any points from this, maybe a fine at worst ??? we'll see though.
Anyway... got me car back on the Friday with 2 new Avon sommat-or-others on the front for 280 euros all in which i thought was fairly reasonable.
From here we decided to head straight to the Nurburgring cos we had been put back a couple of days already so off we went. V V
V V Spotted this on the way which I thought was lovely on those steelies. Had to do a u-turn to get the piccie.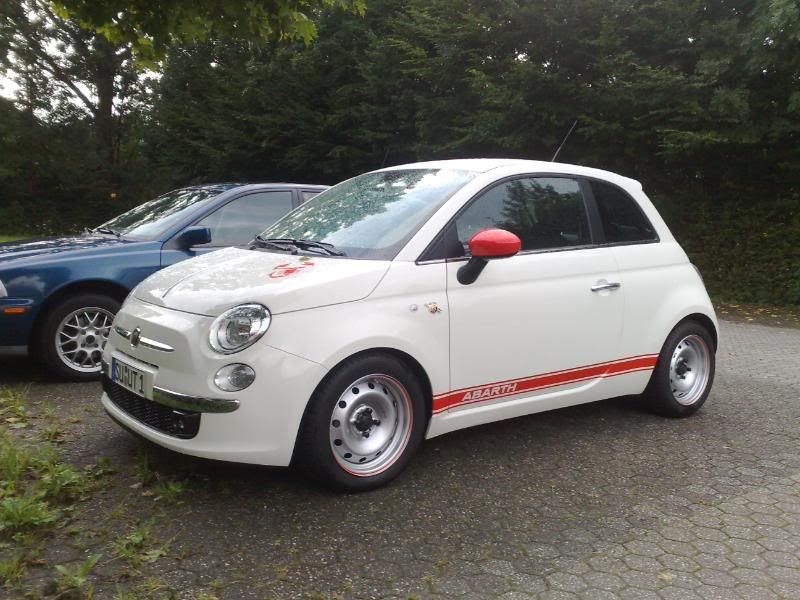 Stopped off at the supermarket a couple of km's away from the 'ring.
Things are looking up. V V
V V Its obvious were in the area now cos every other car is some kind of performance orientated car, and half of them seemed to be 911's V V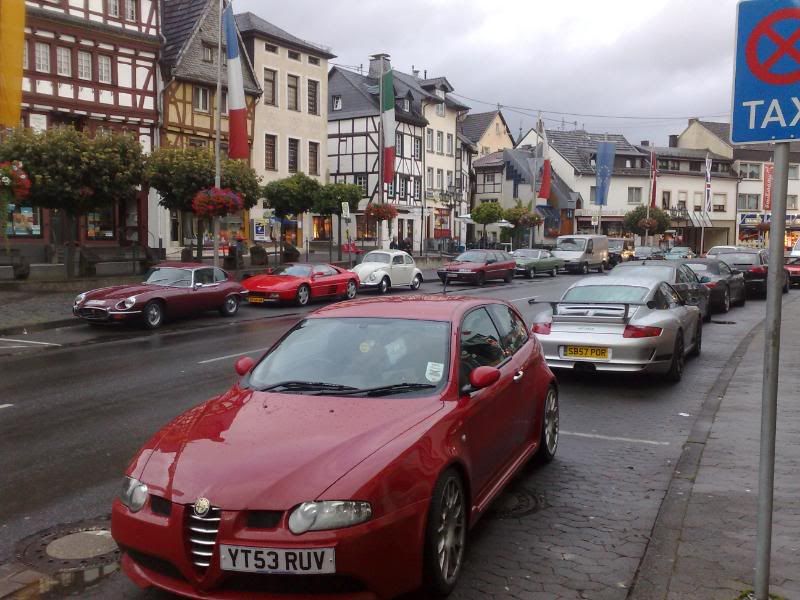 We find the main Ring area. By this point, im a bit bowled over by what im witnessing, at times struggling to take it all in. I think its the best place ive ever been !!
We find a campsite attatched to the ring and set up camp. V V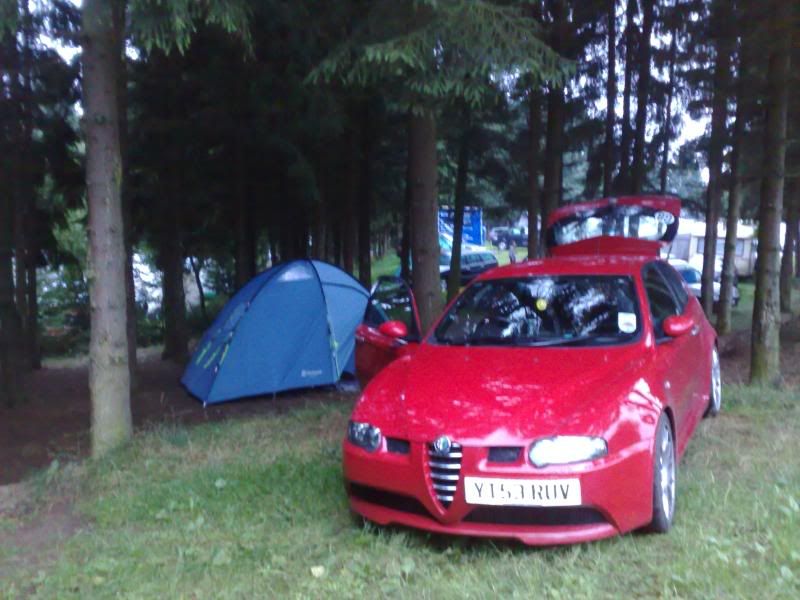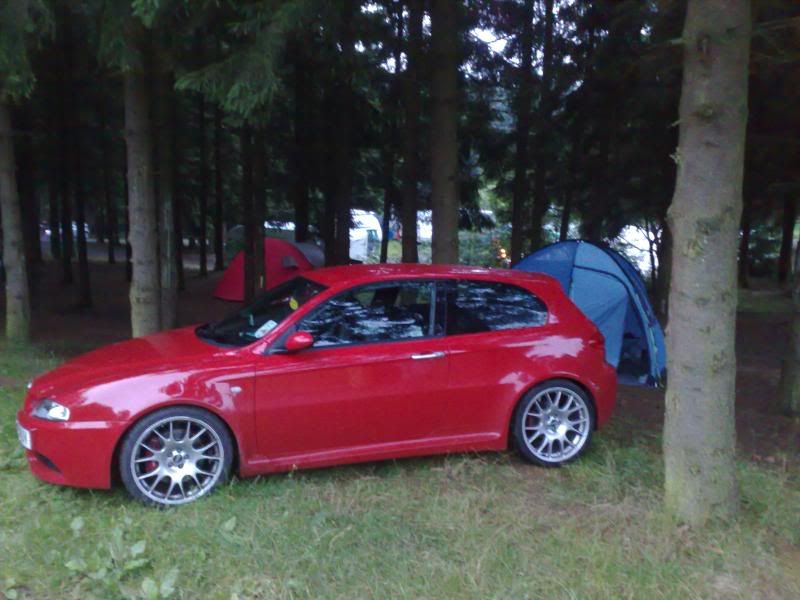 continued...