Discussion Starter
•
#1
•
Does anyone happen to know the dimensions of the standard intercooler? I've found a larger version which is a sidemount and supposedly plug and play to replace the standard one but I can't work out if its only the thickness that's larger than standard, or if its also slightly longer (I'm getting conflicting information when I look online).
This is the larger aluminum intercooler: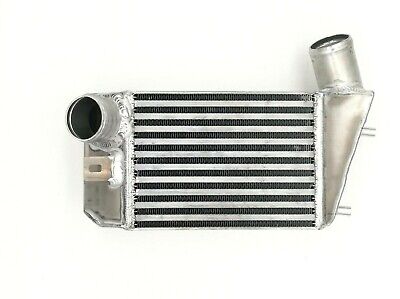 Authentic Products Italian Manufacturing Trusted Seller Menu STORE HOME NEW ARRIVALS ENDING SOON Add to Favorites FEEDBACK Contact Us Product Description About Us Our history Payment Payment methods: - Paypal via Ebay Shipping Deliveries: Returns Refunds and Returns: Feedback...
Overall dimensions are: 370mm x 170mm x 95mm
Radiant mass: 230mm x 170mm x 95mm
I'm sure many will suggest that if upgrading the intercooler its much better to fit a front mount, but I'm trying to keep my updgrades as stealthy and as hassle free as possible both in terms of fitment but also in terms of insurance loadings. From what I can see, a front mount may require mods to the power steering cooler and perhaps drilling holes in the front panel and possibly cutting the inside of the bumper, none of which I want to do.
Many thanks for any info anyone can provide.