If you have a problem with your slave cylinder leaking,
it is probably down to the fact that the seals have compressed over a few years,
and the pressure of the hydraulic fluid is enough to push past the seals.
I did a TEMPORARY fix on my slave cylinder -it lasted 3 years before it went again
I have now had to do another TEMPORARY fix to keep the car running while waiting for a replacement.
The reason I had to redo the fix is because the self-amalgamating tape eventually perished
because of the hydraulic fluid.
I have attached a few pictures of how I fixed mine
It may get someone out of trouble one day, and back on the road.
NOTE, this worked for me, BUT MAY NOT WORK FOR EVERYONE.
I take NO RESPONSIBILITY if you decide to undertake the work.
1. Remove slave cylinder from car.
The rest can be done within the confines of a nice warm house/garage.
2. Carefully move the spring which holds the rubber dust cover over the raised
edge at back of cover.
3. Remove the rubber seal - along with the actuating pin, EXPECT SOME FLUID TO EXPEL FROM RUBBER COVER.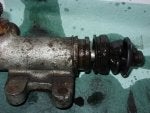 4. Carefully remove piston from cylinder. Sometimes a couple of pushes on the end of the cylinder
will cause the spring behind it to push it out enough to grab with soft faced pliers.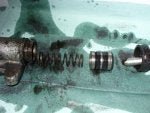 Here you can see the seals have compressed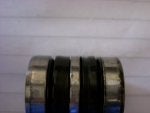 5. Carefully remove the seals.
6. Clean all the parts - especially the inside of the cylinder, and make sure there is no scoring
of the surface inside, if there is heavy scoring, then repair will probably NOT WORK.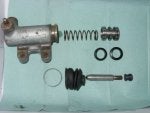 7. Wind some self amalgamating tape around the cutouts for the seals - try to get as level as possible.
Don't use too much or the seals will not go back inside the cylinder, and may pop off the piston.
I used about 3-4 layers.
8. Replace the rubber seals.
9. Again make sure no dirt etc has entered the cylinder, and to make sure, clean out with fresh hydraulic fluid.
10. Lubricate cylinder with fresh hydraulic fluid, then replace spring inside cylinder, followed by piston - if it is too difficult to push back, don't try to force
as you may end up ripping one of the seals, instead remove some of the self amalgamating tape under the seal.
11. With cylinder back in, replace the rubber dust cover, and spring that holds it in place.
12. Replace cylinder on car, and bleed system. You should now have a working clutch enough to get you around until replacement cylinder arrives.
NOTE : AS STATED ABOVE, THIS IS BY NO MEANS A GUARANTEED FIX, BUT MAY HELP TO KEEP CAR RUNNING WHILE WAITING FOR REPLACEMENT CYLINDER TO ARRIVE.