Thought I'd have a go at writing a How-To as there's not one for changing the oil on a TS.
If I've got anything wrong let me know and I'll change it
Pictures were taken from my PH1 2.0 TS GTV, not sure if there's any difference in older models but I think it will be minor.
Difficulty : 1/10 - Very easy as long as the sump plug comes out.
1). Run the car for a short time to get it warm (not hot), Jack up the front of the car securely and place axle stands securely under the jacking points. If your car has one then remove the undertray, this can apparently be a difficult area as the bolts can become corroded. Luckily I didnt have one
2). View of what you are looking for, this is from the front of the car looking back, Arrow shows the location of the sump plug, towards the top of the picture is the oil filter.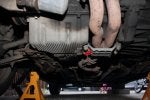 3). Place a large tray under the sump plug and undo with a 8mm Hex socket. This is the only tricky bit. On my car the sump plug came lose after a small struggle with a standard socket wrench. Be careful with it as the sump is alloy and you can strip the thread if you are not careful. Plus-Gas/WD40 sprayed on an hour/day before can work wonders.
Also make sure your tray is big enough, 4.5 litres of oil is a surprising amount.
4). Leave it to drain until it stops dripping, move your tray under the filter and undo using a oil filter removal tool as per it's instructions (Mine was a £6.99 chain type from halfords) to loosen it off. If you dont have one of these tools I'm reliably informed you can ram a screwdriver through the side and turn it that way.
5). Finish unscrewing the filter by hand, it will be full of oil and more oil will come out of the engine too.
6). Half fill the new filter with oil to reduce low-pressure time at the first startup, try to get it down the middle, I got it all round the sides and spilt it everywhere
clean up the surface where the oil filter attaches, and smear a little new oil over it. Attach the new oil filter hand tight.
Clean up your sump plug and replace the copper washer with a new one (If your sump plug has been previously bodged/damage you may want to replace it, I got one from a dealer with a washer for £12 but didnt use the new plug in the end as mine looked in good condition. Sump plug should be torqued to 17 to 21 Nm or 1.7 to 2.1 kgm.
..continued in next post