Discussion Starter
•
#1
•
I've been thinking for some time that I need a diesel to fiddle with. V6s are familiar territory, but Mrs rxe's 159 20v is a bit scary and I've avoided fiddling with the engine as much as I can, mainly because I'll probably break it and she needs a reliable car. So then only thing to do is to get a diesel toy, and learn on that - bonus points for getting a filthy Euro 3 engine that Greenpeace hate even more than the 3.2 V6s. The 159 is doing monster mileage at the moment (schlepping backwards and forwards to different schools), so a spare diesel is no bad idea.
Casual ebay trawling has been happening for the last few months. Criteria have been simple: less than £500, reasonably close to home (very close if a non-runner), 2.4 engine, 10v, pre facelift, sportwagon. Or as we say in our family, dogwagon, because the boot is where the big dog goes. There have been some proper nails on eBay - space shuttle mileages, busted bodywork, busted engines, hideous interiors. I've been dropping the odd cheeky bid and getting nothing, but that isn't a problem as the last thing I really need is another car.
So along comes this one (sellers pics from eBay, got none of my own yet).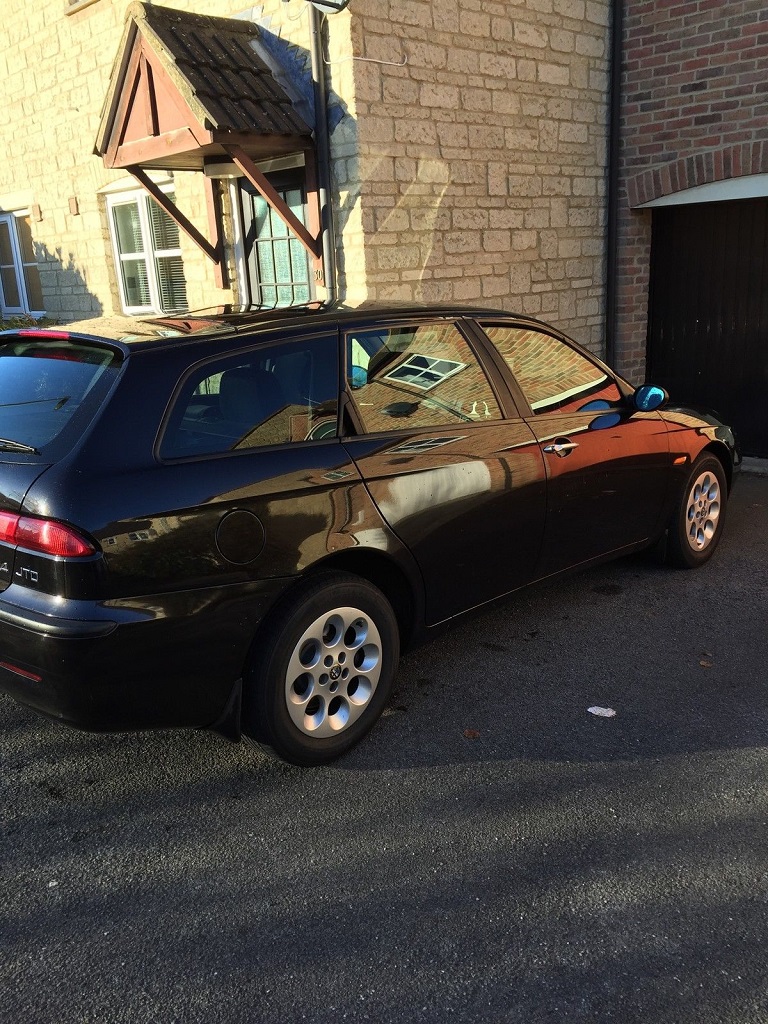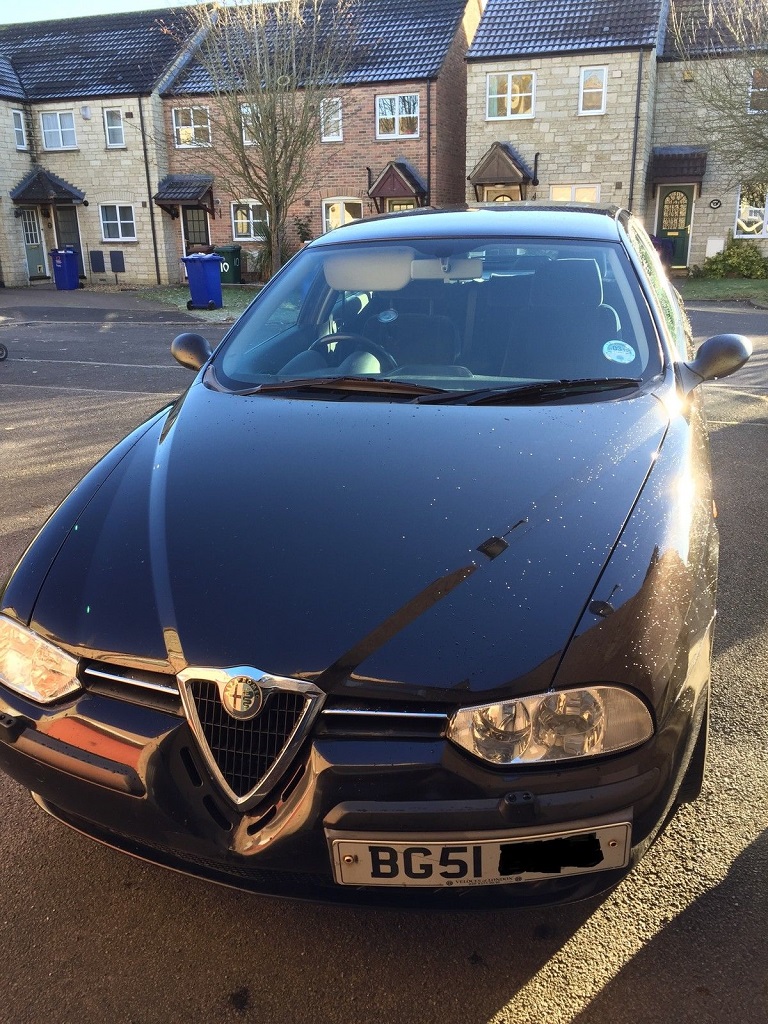 The seller happily gave me the full reg, and I put it though the MOT history checker. Nothing frightening, just the usual duff bulbs and chocolate bushes. It was doing over 12K a year for the last few years which is a good sign - sane people don't do 12K in a rubbish car.
A bid was placed when the car was sitting at £128 with a day to run. I followed up with a snipe as it ended. And won. For £380. Which was why, last Saturday night, the Father in law and I set off to Bicester in the pouring rain. Pre-purchase checks involved starting the engine, it started first turn so I paid Andy for his car. Other than that, I didn't look at a single thing as the weather was heading into biblical mode. I was handed a massive history folder, and two keys. Win!
So, faced with a 50 mile drive home in torrential rain, what was it like? Well, it's pretty much perfect - especially when you consider I had just been driving a somewhat modified V6. So:
- Engine: starts on the nail, pulls like a train, no turbo whine. Appeared to use no diesel in 50 miles, we did fill it up so the gauge certainly works. There is a small squeal from the aux - wetting the belt with water quietens it instantly, so it is the belt/tracking, not a knackered alternator. The temp gauge is showing a bit cold (60 on the motorway), I haven't got MES on the engine yet to work out if it is the thermostat or the gauge. Belt is due in 2017.
- Drive train: gearbox (5 speed) is sweet. There is a slight grumble from the passenger side if you really give it some welly, might be the tripod. In normal driving, you don't notice it.
- Brakes - fine. Firm and straight
- Tyres - brand new all round. About 7 mm left.
- Suspension - someone has set the DNA switch to "bouncy castle". It was fine on the motorway, but rather unsettled on anything lumpy. Handling was fine - it corners well, no knocks and bangs.
- Equipment - everything works so far. Heater, rear wiper, lights, everything. The air-con apparently needs a re-gas.
- Bodywork - haven't seen a mark on it. It even has the original plastic under tray. I haven't inspected the underside, but given the total lack of corrosion in the MOT history, I'm hopeful.
So, plans.
1) Belts - I need to fix the aux squeak (its annoying) and I might as well do the timing belt as well.
2) Good all round service - the (copious) history say it was last done in Mar 2015.
3) Investigate the grumble under acceleration, might just live with it.
This seems to be a complete bargain so far!