Discussion Starter
·
#1
·
Hey guys,
My brakes haven't been very good since I bought my car a year ago. I originally thought about going for the 330mm upgrade but after seeing the price of them (new and second hand) and reading a thread about them in the GTA section I decided to give my own one last chance.
After reading chris_c2000's guide (and getting some helpful advice from him, cheers mate) I thought I'd document my own experiences in case anyone else wants to give it a go. I do have experience with hydraulics but this is my first time doing this so feel free to chip in.
First thing I did was to buy a caliper redress kit
http://www.ebay.co.uk/itm/310340999309?ssPageName=STRK:MEWNX:IT&_trksid=p3984.m1439.l2649
and some decals
http://www.ebay.co.uk/itm/380367274603?ssPageName=STRK:MEWNX:IT&_trksid=p3984.m1439.l2649
You will need
Jack
Axle Stands
10mm Spanner
11mm Spanner
17mm Spanner
19mm Spanner
Small punch
10mm Allen Key
Small flat bladed screwdriver
Torque screwdriver (will edit size tomorrow)
A few cans of beer (optional)
So I started with -
Wheel off, caliper exposed. As always a good dose of WD40 on everything to be removed a few hours in advance never does any harm. Then loosen all your bleed nuts, bolts etc. Do not completely remove at this point just break and lightly tighten. I had to cut off the metal line that comes out of the back of the caliper and the manifold that connects both sides together so I could get a closed spanner over the end. Some motor factors will make these up for you or you can buy a kit to do it yourself, luckily I bought one not too long ago.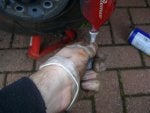 Next you need to remove the brake pads, I completely removed the caliper first but it would probably have been easier knocking out the pins that hold the pads in place then take off the caliper and the pads should fall out
Unfortunately I found out the hard way but if you screw the caliper back on hand tight at this point you can pump out the pistons and they will stop on the disc.