Discussion Starter
·
#1
·
HELLO FORUM,
as the title says i just got my first car (alfa romeo 147 1.6 tspark 2005 in a sexy sexy light blue). It has some problems which i wasn't aware of until after the sale (i bought it last saturday). then there are some mods I would like to carry out on it and would like some advice. Below i'll list what needs fixing and what I'd like to mod. All suggestions are much appreciated.
Essential fixes:
1. Rear middle seat belt is stuck, wont extend at all. I tried to pull it but no matter how i do it, it won't budge.
2. The car horn doesn't work (I knew of this problem before I got it).
Non essential fixes:
3. The interior door handles are super sticky and have this crap that seems to just come off it. will acetone and elbow grease do the trick or will I need to use something else?
3.5. best way to clean marks off leather seats without damaging it?
mods:
4. I already bought a stereo head unit which should come on friday along with the faceplates adapters etc. stereo unit is the sony dsxa410bt but i would like to change out the speakers so I would like your recommendations on which speakers to buy for this stereo head unit. Are they even worth replacing? I can spend £100ish on this but if u think its worth spending more im all ears for suggestions (audio is very important to me and while i cant afford a nice underseat subwoofer for now I plan to get one in the far future so I'd like to keep my options open).
5. Interior and console. I want to paint/vinyl wrap the main console as I don't fancy the colour. Also there's a lot of grey going on in my car so I want to remove the fake leather wrap on the dash and top side of the door panels then replace it with black faux leather vinyl wrap. create some contrasting colours inside
I've not done any sort of work like this so I need help on where to get supplies and how to actually carry it out (the latter can be explained later when I actually get there ahaha). I'll need to peel off the old grey stuff how would i do that?
id like to do 3, 4 and 5 together so i wont need to remove the door cards on seperate occasions.
6. I want a stubby aeriel, any suggestions for that?
7. My car doesnt have a spoiler and it looks well too round for my liking from behind so any recommendations on what one to get? Id like to spend less than 50 for this
*
any other mod suggestions would be much appreciated. ooo just remembered my car doesnt have original mats so id like a good suggestion to what mat i should get. Also i found an unplugged wire in the engine bay ive attached a photo, any ideas (hoping its for the horn ahaha)?
more pics of my car can be seen on this ebay listing at the very bottom.
Thank you everyone!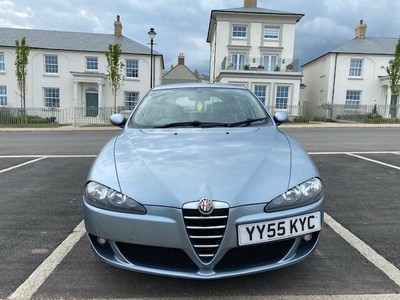 Find many great new & used options and get the best deals for 2005 Alfa Romeo 147 1.6, 16V Twin Spark Lusso at the best online prices at eBay! Free delivery for many products!