Discussion Starter
•
#1
•
Have a look at what I drove last Saturday
I took a drive through to his house in Port Elizabeth in the Eastern Cape (South Africa)
John (aka Monstro 3.7) let me drive his well known Alfa 147 Gta 3.7, thanx John it was a real blast!
The car have wildish cams with a upped compression ratio of 11.2:1
Quife Limited Slip diff set at 145nm lock, its quite noisy when not locked almost sounds like a driveshaft is stuffed.
Shorter ratio gearbox (same as the 156 2.5).
Full coil over suspension with strut braces front and rear.
A set of 19" BBS CH Alloys fitted with Goodyear Eagle F1's is the only visual difference apart from the 147 Cup front spoiler.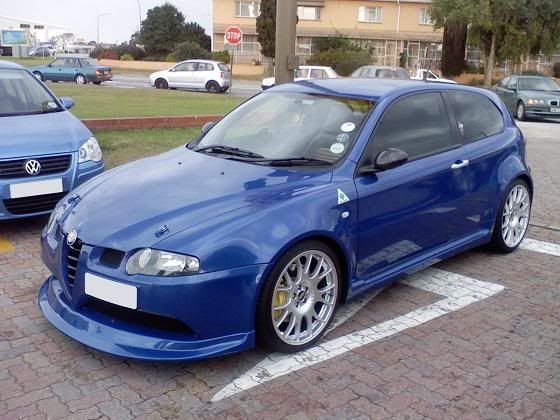 Autodelta upgraded discs (330mm as standard) with upgraded pistons in standard calipers and powder coated in yellow.
0-100km/h in 4.something seconds.
This car has immense traction off the line for a front wheel drive, you can even abuse it off the line and it doesn't complaint.
Then there is the engine … and what an engine!!!
You can floor it in any gear at just about any revs and it just goes like a batt outa hell.
I have driven various V8's and turbocharged 6 cylinder cars and very few of them will get close to this little number.
As long as the engine is above 1500rpm it pushes you into the seat with quite a force.
John even pulled off from a stop street (rolling at about 5km/h) in 6th, the car pulled cleanly without any jurks or shatters.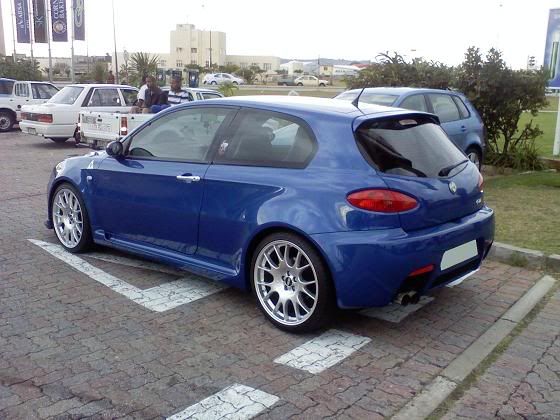 Where the car also impressed a lot was through the twisty bits especially high speed cornering, it sticks like glue and have almost zero body roll.
This car is really an all out project, not just a strong engine in a otherwise standard car.
Its about the package with this car, not just straight line acceleration. (very much Porsche GT3 like)
This car was extensively developed by John with the help of Dawie De Villiers (Glenwood Motors) and Juno (Autodelta UK).
John even had a sticker custom made modifying Glenwood's normal stickers add Dawie's name and 3.7
He kindly gave me a similar cap as a gift aswell.