GTV 3.0V6 24v supercharged
Hello folks,
I needed to relax from my JTD tuning for a while so I began to think about concept of supercharged 3.0V6 24v GTV. I will share my knowledge and ideas and would like to hear your opinions and experience. I'm not a petrolhead, so be kind to me
At the start I prepared few calculations and plottings ...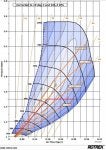 I know the real engine volumetric efficiency differs a little (it's probably higher at the low rev and decreasing with increasing revs), but I remember my friend who told me that max airflow he logged on his GTA was about 640 kg/h, so I think those 600 kg/h between 6500-7000 rpm should be ok here.
I heard the 3.0V6 24v stock engine would cope with 0.5 bar (7 psi) boost quite easily. By rules of 10lb/m airflow per 100HP (or 0.1 kg/s per 120HP) the engine would produce little above 300 HP at such boost level. This job would match Rotrex C30-94 supercharger perfectly.
To (almost) reach such boost figures at redline (bold orange rightmost curve labeled 1:1 130) I would need to gear the supercharger to the crankshaft in ratio 1 to ~1. But that seems to be to me like a huge underestimation of the supercharger, as it will goof off all the time, only increasing torque with increasing revs, making it peaky rather than flat.
So the solution is harder pulley.
If I gear the supercharger in 1:1.444 ratio (90mm pulley), I would reach 0.5 bar boost much sooner (red curve labeled 1:1.444 90). Max supercharger revs (100krpm) woud peak at 7500 engine rpm and 1 bar boost. Or 1.25 bar boost at 6500 engine rpm with 80mm pulley.
The question is how to throttle the boost.
1. By restricting the supercharger inlet - at normal (1 bar absolute) pressure on inlet side, the compressor will produce 2 bar pressure max. To get 1.5 bar max, I would need 0.75 bar (absolute) underpressure on inlet side (so if C30-94 compressor inlet is 61mm dia, airbox inlet should be ~53mm dia); or
2. By capping max boost level by some valve, that would open above requested 1.5 bar pressure (mechanical overpressure/pop off/bypass/whateverthenameis valve or /prefferably/ some solenoid actuator operated by MAP driven electronic boost controller) and vent the overpressure.
The first option is IMHO damaging compressor wheel, the second a bit awkward as it need the vent piping back to the airbox (otherwise it would make fancy "pfssssh" sound anytime over ~4500 rpm) and - and this is more important - the second option will turn crazy the MAF and ECU as the part of metered airfow wouldn't enter the engine.
Any other suggestion of boost control or best practice?