Discussion Starter
•
#1
•
I replaced all my track rods and track rod ends a while back to track my car as the old ones were seized solid. A few months after that the car was MOT'd and advised on slight play in the track rods. I finally got round to looking into this in case the track rod was coming loose from the rack!
That was all OK but I have found that the movement is coming from the outer section of the track arm plunging into the 'fat section' of the track rod! I've never seen or heard of this before so my question is should that be happening? Is it some form of damper? It's not a slack movement, it's like its rubber mounted or oil filled within the fat section of the track rod? Any thoughts/help/words of wisdom because no-one I know has seen this before?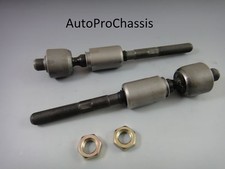 The image shows the track rods with the fat section just before the ball joint, the outer half of the rod is plunging into this by 1 or 2mm.