(Post Link)
post #1 of 2
Old
20-06-10
Thread Starter
Status: -
Newbie
Join Date: May 2010
Location: United Kingdom
County: Warwickshire
Posts: 1
Newbie 156 fails to start then displays MCSF
---
Ok so this is my first alfa and so may well have done something silly but here's what has happened so far.

I picked up my 05 156 2.4 JTD-M about a month ago, all has been well so far regards to starting(though now i cant help think the battery sounded like it was struggling sometimes). Last week i nipped out to fill up (approx10-15minutes) then didn't use the car for about 4 days. When i came to use it again it failed to start but only just, starter motor etc sounded ok. I then jump started it off my girlfriend's car (i've since heard this wasn't clever) to find a motor control system failure - go to dealer alarm. This wasn't present on the previous journey so could it be due to low battery voltage or have i blown something during the jumpstart? Please help, i'm new to the apparently quirky Italian electrics!!
(Post Link)
post #2 of 2
Old
20-06-10
Status: behind the wheel of an alfa again :)
AO Member
Join Date: Jan 2010
Location: United Kingdom
County: Lincolnshire
Posts: 407
That is correct you shouldnt really jump start these as they are a bit tempremently, i have had similar proplem in the past and i ended up replacing my battery and altinator and problem solved. Best thing to do is find a multimeter (if you have one) and check your battery, if this is ok check the altinator. It does sound like a battery problem though, espically with these diesels they require a lot of power from the battery as they have loads of electronics. If you do have to buy a new battery make sure you buy the right size too, it is better to buy a decent one that will last longer then a crap one a replace it in a year.
---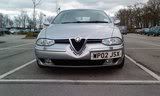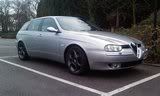 Gone in 60 seconds but better stood still for 60 minutes, my Alfa Romeo 166, GTV & 156 SW, its an AlfaHolic problem i have
Newbie 156 fails to start then displays MCSF
Posting Rules

You may post new threads

You may post replies

You may not post attachments

You may not edit your posts

---

HTML code is Off

---